Powerpoint presentations
After many requests from OrthoLoad users we started in February 2011 to publish tutorials on selected topics. They are mainly aimed at being used for teaching, but also for research and implant development. Shown will be Powerpoint presentations in form of videos. These videos require the Xvid-codec. It is suggested to use the Media Player Classic to play these videos.
Loading of the knee joint during frequent high demanding activities – Early data from the first four patients.
The focus of this first tutorial is set on the force magnitudes and the torsional moments. These load components are most decisive for testing wear and stability of knee implants. It is shown that especially the torque is much higher than defined in the ISO standard. The data is based on measurements in the first four patients. Evaluations from nine patients are under way and the conclusions drawn in this talk may have to be slightly changed in the future.
Download presentation [41 MByte]
Averaging software
When loads acting at joint implants are measured with instrumented implants, they vary much in time, intra- as well as inter-individually. Nevertheless the users of such data need "typical" load-time patterns, for example for testing or analytically improving joint implants. Simply calculating an arithmetic mean curve delivers untypical results (see figure, blue line).
The averaging software "averdtw.dll" calculates an average signal from several varying, time dependent signals, using a dynamic time warping procedure (see figure, red line).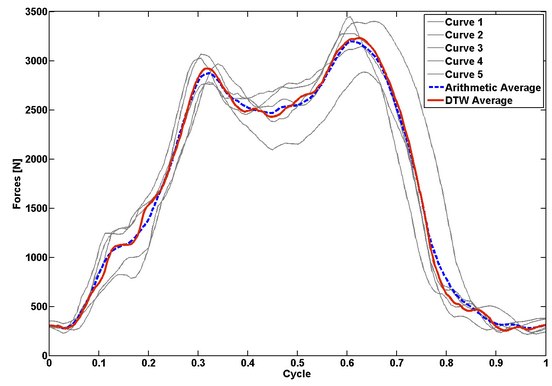 Simplified description:
k signals are first time-normalized and then time-distorted (warped) so that the summed squared errors between all of them become a minimum. All distorted signals are treated statistically, obtaining different output signals: arithmetic mean, median, minimum, maximum, 25 percentiles, 75 percentiles.
For details see:
Bender A., Bergmann G., Determination of Typical Patterns from Strongly Varying Signals,Comput Methods Biomech Biomed Engin. 2012;15(7):761-9.
Download:
introduction.pdf – a description of the averaging software "averdtw.dll" [67 KB]
averdtw_vb6.zip – contains demo program (needs installation), demo data, dll library, and source code of demo program, written in Visual Basic 6 [3.6 MB]
averdtw_vb2008.zip – The same for Visual Basic 2008 [1.8 MB]